---
VOCAL FOR LOCAL!! BEST QUALITY MADE IN INDIA
HOW TO PROPERLY WEAR OUR BACK BRACE
Loosen and un-velcro all the adjustable straps. 
Stand up straight and get in your best posture(standing against a wall helps). 
With your best posture put the brace on and Velcro/tighten any straps so that the brace has a small amount of tension/tightness against your body.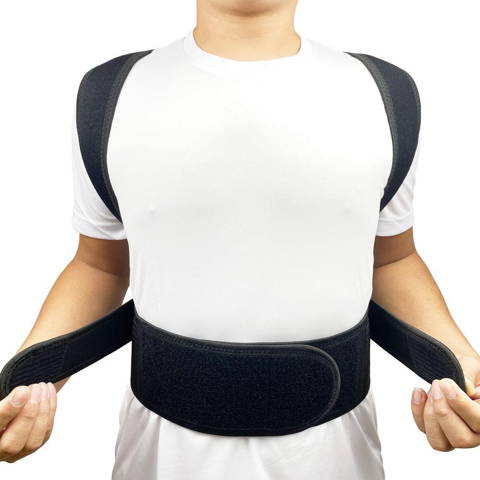 This lower back lumbar support brace is adjustable and can accommodate many different types of figures.

Great for people who sit all day

Pulls shoulders back to correct posture

Improves posture and supports your back

Provides rigid back support

Non-restricting uni-sex design for men and women

Retractable elastic straps for the waist and shoulders

USING YOUR BRACE LONG TERM

When your body gets tired of holding that position the lumbar brace will feel tighter which is a reminder that you need to straighten your spine and lower back. Like most back braces and posture correctors, this support should not be so tight that it is uncomfortable to wear. Sizing could be an issue if it is too tight from day one. Over time you can tighten the brace to further achieve better positioning and reduce lower back pain.




The purpose of braces are to train your muscles so that they stay in the proper posture. The more you use them the better your posture will be. It took many years to develop your posture, don't expect results overnight. Using braces consistently is key to improving
WARNING
Please ensure you are FULLY ready for this ORDER and the money to pay at the point of Delivery is available before placing your order. 
Kindly Don't Place an order if you would be traveling soon, or you are not financially ready to receive the order in 3 – 7 days.